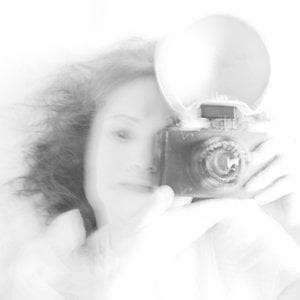 Britta Hershman
Biography
While my love affair with photography began with a digital camera, it was not long before I became fixated on film and alternative printing processes. I learned to use cameras from every era of photography and experimented with unconventional ways of printing my images. I believe photos created with film and/or alternative printing methods have an organic uniqueness, an element of unpredictability, and a deep sense of "soul" that I find compelling.
My favorite type of alternative print is the cyanotype. Cyanotype printing is a blue print process that dates back to the 1840s. In its early days, this method was used to create image catalogs of plants, and it is also closely related to traditional architectural blue prints. Cyanotypes require sturdy paper that can withstand extensive soaking and rinsing, a special UV-light- sensitive chemical solution that is hand-painted onto the paper, and a negative that is the same size as the final print. Also indispensable is a bright, sunny day, as these prints are exposed using only UV rays from the sun.
For Van Dyke prints, a different photographic chemical is used to create prints in a characteristic brown tone. They are named "Van Dyke" because the final shade of brown closely resembles an oil paint color named in honor of the Flemish painter Van Dyck. Except for one extra step, where the print is soaked in a fixer solution to prevent fading, Van Dyke prints are made in much the same way as Cyanotypes.
For my film work, I enjoy working with a wide array of black and white films. I love the thrill of developing negative film myself, using the homemade coffee-based stain developer Caffenol-C. The excitement of making out images on the freshly developed film never wears off, and the smell of coffee is a bonus! My favorite instant film is a monochrome ("Silver Shade") film made by the Impossible Project, designed to fit traditional Polaroid cameras. The films are made with a unique new chemical formula, which often yields somewhat soft and dreamy images. When paired with the right subject, the results can have a historic or even timeless appearance. I purposely seek out subjects and scenes that contain no clues as to the year or even decade in which the photo was taken. The sense of ambiguity of time is an important element in my work, and historic places and moody landscapes are among my favorite subjects.
Brief Resume:
Britta's photographic work has been published by the Impossible Project as well as in several print and online publications based in the US, Germany, Italy, and Japan. Her photos have been exhibited in galleries in Virginia, Arizona, California, Oregon, and Vienna, Austria. She recently took 2nd place in the Old Coast Guard Station's "Our Town" show (2014) with a cyanotype of Ferry Plantation House. She also won the Impossible Project's Spectacularly Creative Contest (2013) with her instant film photo "Ghosts in the Garden" and the Flowers category of the 2013 iPPA awards with "Queen Anne's Lace." Britta also received an honorable mention in the 4th Annual Curious Camera Show (2012) for her instant film double exposure "Behind Bars" and an honorable mention in the 2011 John Batdorff Black and White Photography Contest for her series "Four Elements: Earth, Water, Air and Fire." She has lived in Virginia for several years and previously lived in Colorado, Southern California, New England, Italy, and Germany.
Contact